Inspire to Innovate
We inspire today's students to become tomorrow's
science, technology, engineering & math innovators!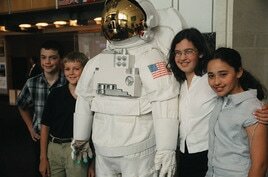 ---
Member of:

Center for Excellence in Early Childhood Learning & Development Hosts 58th Annual Conference, Kingsport, TN (July 12-14, 2018)

Co-Chair, Sonia Yoshizawa invited Carrie Lynne Draper to present EC STEM

Founder to Retire

Digital Technology in the Early Childhood Classroom: When is a child ready?
nstacommunities.org/blog/2018/06/27/digital-technology-in-the-early-childhood-classroom-when-is-a-child-ready/

Join us at the 2018 Early Childhood STEM Institute

California State University Monterey Bay & Camp SEA Lab

Learn how scientists are testing new technology to study the "twilight zone" of the ocean

Using NGSS in the Early Childhood School Yard
presented by Carrie Lynne Draper

SoCal Preschool Directors are invited for
Lunch & Learn
Friday, March 9, 2018
11:30am-1:30pm
hosted by: Rebecca Coen, Head of School
Stratford School, Los Angeles, CA Melrose Campus
RSVP: 323.962.3075


Skills USA at Los Angeles Trade Technical Community College
February 3, 2018

The 7th Annual Early Childhood STEM Conference
Imagine, Question & Innovate
February 2-3, 2018
Anaheim Marriott, Anaheim, CA
www.ecstem.org

Join Us at Purdue University National STEM Education
Research & Best Practices Summit

Dr. Buzz Aldrin Speaks at VASTS

Dr. Buzz Aldrin joins Rudo Kashiri, STEM Director at Readiness Learning Associates to speak to Virginia Aerospace and Technology Scholars (VASTS).

Join Carrie at Better Together, California Teachers Summit @ California State University Northridge, July 28, 2017! Registration Now Open!


Natural Phenomena: Awe Inspiring & Trauma Inducing in Early Childhood

Carrie Lynne Draper moderating STEM Panel at ECSTEM 2017

Tour our gallery to see the STEM fun students and teachers have at our events & check out some of our STEM partners!